Healing the family coaching
Coaching You & Your Family to Great Health
Family Coaching
What if…Every member of your family understood the purpose of connecting and building strong relationships. What if…Your family mastered the value of communication, vision, and family values such as support, encouragement, honesty, conflict resolution and integrity towards a prosperous and lasting legacy. Healing the Family Coaching can help.
Pre-Marital & Marriage Coaching
What if…You could find comfort and success in your marriage before it began? How would it feel to start your marriage off with an even stronger foundation of effective communication, values, and action plans towards growing together and having guiding principles that promotes fearlessness against divorce?
Helping You Achieve Success
Unlock Your Full Potential. 
Are you ready to have thriving relationships become the foundation to living the abundant life? Unlock your potential to be successful at home, work, and in business. Achieve your personal, relationship, and self-development goals.
Family Coaching
Providing Parent(s) & Child(ren) support in developing healthy relationships in Single, Dual and Blended Family constructs.
Pre-Marital Coaching
Fortify your marriage for a lasting, loving relationship for years to come.
Marriage Coaching
Keep you and your partner growing together by creating better communication, understanding & emotional connectedness as you move through life's developmental changes.
Spiritual Formation
Strengthen your relationship with God. Develop focus, behavior changes, practices and disciplines that will lead you to a more peaceful life.
Personal/Relationship Coaching
Move your dream to a vision. Create a plan and set goals that will give you the life you want. Get unbiased support to achieve your goal. Learn to develop healthy relationships that will last for a life time.
What Is Family Coaching?
Who is Coaching For?
Family coaching is understanding and developing healthy relationships with family members (to include blended families). It is getting unbiased support to face normal human development challenges and stay connected as a family.
Family coaching is for any family who desires continuous trusted communication, the experience of less hurtful encounters with family members and tools to prevent family trauma that comes from areas of choice such as:
Anger, Overwhelm, & Stress
Unhealthy Conflicts and Communication
Divorce
Alcohol and Drug Abuse
About Demetrica
Demetrica Mathews is a Certified Professional Coach, Mental Health Professional, and Writer. Ms. Mathews has a Bachelor of Science (B.S.) in Religion & Christian Counseling and a Master of Art (M.A.) in Counseling & Life Coaching. Demetrica Mathews is also a Board-Certified Christian Life Coach through BCLC. Demetrica is passionate about progression and seeing people develop in their Kingdom purpose.
"Demetrica is down to earth and professional. Accountability is key when working with her. In this process, what I realized the most is I was pursuing relationships and career choices that did not fit my purpose. Now I feel a sense of freedom."
Ms. D. Judy
"Working with Demetrica allowed me to see many of the obstacles that has caused me to be heartbroken because me dreams and desires had not come. I was just about to give up. Demetrica has a heart to see people succeed, truly. When I saw how much she wanted it for me, my desire to have my purpose fulfilled became greater. I now have the license for my dog business and I am working on my first book on small doggie care. I don't plan to stop getting coaching. Thanks, Ms. Demetrica! I appreciate you."
Shelley
Raleigh, North Carolina
"God has truly blessed me to have this amazing woman of God in my life. Since I began working with Demetrica, I have noticed a significant shift (for the better) in my household as well as in my own attitude towards parenting. I now understand my power as a parent and I am beginning to walk in that authority daily. Demetrica has taught me the importance of having order in my house, how to war in the Spirit on behalf of my children, and she has helped me truly understand my role as a mother. I now realize who I am raising; a king and a queen. That's a big job but my work with Demetrica has solidified the spiritual foundation I needed to parent better. This has led to more peaceful nights for me, less worry and stress and better relationships with both of my children. Because of this work, I have seen significant improvement in my son's progress in school and my daughter's future outlook. In addition, I have noticed a significant increase in my confidence as a parent and the decisions I make on behalf of my son and daughter. For this, I can't thank her enough. This work is truly powerful! Thank you, Demetrica!"
S. Quinn
Tampa, Florida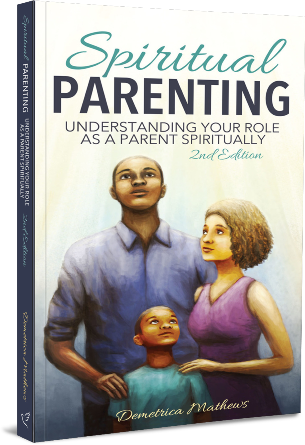 Spiritual Parenting, 2nd Edition - Understanding Your Role as a Parent Spiritually
COMING SOON Spring 2019
"I don't know what to do with this kid anymore."
"I am at my wits end."
"I am really just tired."
"Where is the MANUAL for this kid"
If you have wondered, thought, or said this at one time or another, keep this book in your grasp. Spiritual Parenting is a POWERFULLY informative guide that addresses mastering parenting with biblical standards.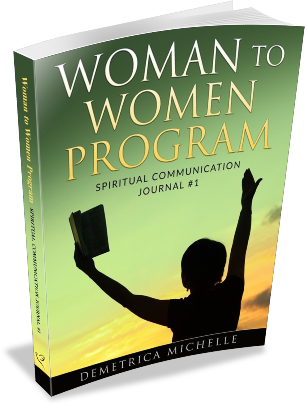 Woman to Women Program
The Woman to Women Program is about bringing the best out of women in all stages of life and to see the potential of every woman maximized to do life God's way.
WWP's Journal #1 teaches and encourages effective spiritual communication within ourselves, with God, and with others.
Effective communication yields powerful relationships, greater manifestation of the power and promises of God, and a deeper reach to being your authentic self.
Price: $12.00
Need a guest speaker at your next event?
Looking for group coaching for couples, individuals or support groups?
Hello, I am Demetrica Mathews and I would love to speak to your group. With over 15 years of relationship development programs dealing with family issues such as grief, divorce, teen concerns, and women's issues, it would be my pleasure to share my wisdom, knowledge, and experience with your group. Click the button below and let's talk.
UPCOMING EVENTS
Life Beyond the Pain – Dealing With All Forms of Grief February 2019
Surviving the Divorce Aftermath
March 2019
The Ascension Coaching Program – Getting To & Loving Your Authentic Self
April 2019
Sign up below to receive announcements for upcoming events.
Don't Wait Any Longer. Start Forging Your Own Path Today!